The external part of your solar panel system comprises solar panels, mounting hardware, and wire connections. External maintenance generally includes cleanliness and fighting back against the ravages of the elements. It is a simple four-step process for getting it done. You can also hire expert solar services if you feel unable to do it yourself.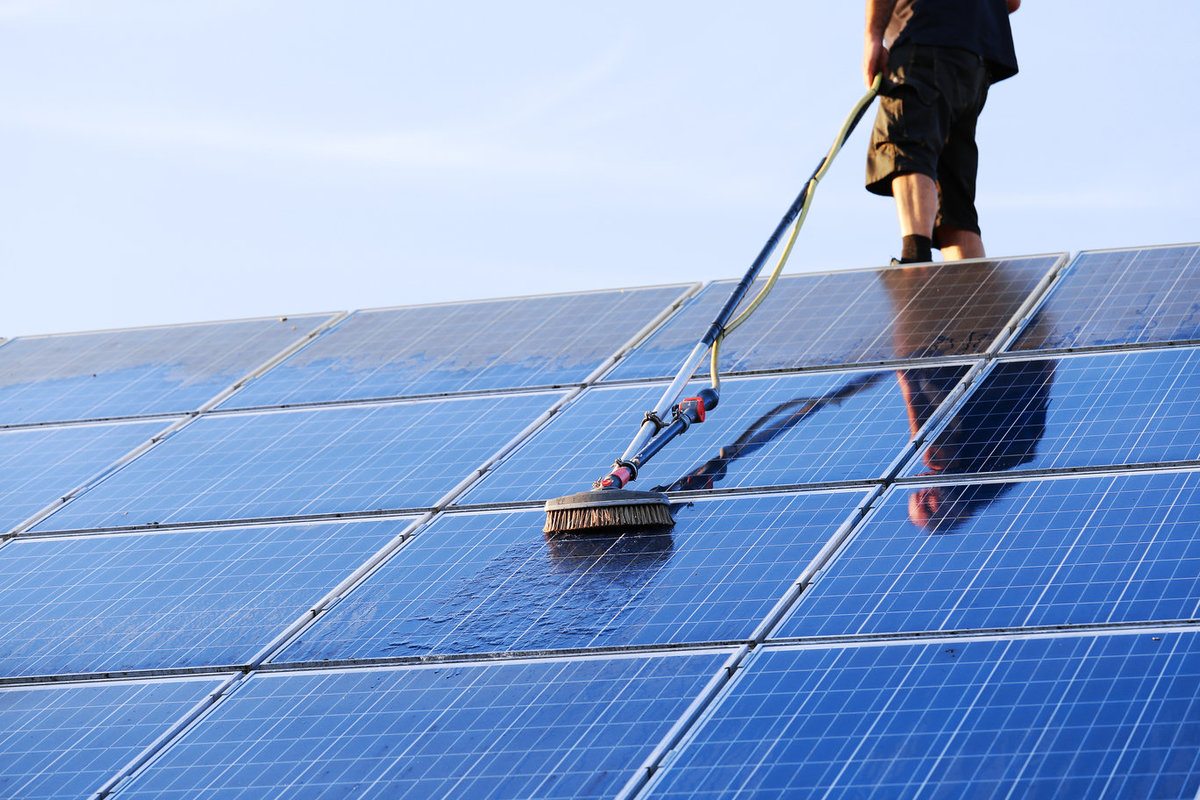 Monitor your solar panels for any breakage or cracks in the glass. When you detect them, seal them with a high-temperature silicone product. Since cracks can allow entering moisture and may grow deeper and wider if left unrepaired. Make sure to clean the area where the cracks have been formed with window cleaner and after that dry it completely before placing the silicone. The best time for repairing cracks is when the sun is low and the glass is not heated.
During Solar Cleaning, Remove dirt, debris, bird droppings, and other unwanted materials from the solar panels, and then wash it all down with a window cleaner solvent or vinegar and water solution.
Check on all hardware parts to be sure they are still tight. You can use a light coating of WD-40 on the connections if you are noticing the signs of exposure to the element.
Investigate the wire connectors coming out from the solar panels to your home to determine if there are any signs of corrosion or frayed wires. Replace all damaged wires or connectors.
If you notice any damage to the system, call expert solar services near me.
Interior Maintenance:
Interior maintenance is easier to be done as you have to inspect only the area where the external wires enter your home and the opening should be weathering proof. You can look for the signs like water stains in the area where the wires reach inside. Check the services of Solar Cleaning Near Me.
Battery Maintenance:
In the case of using flooded batteries, remove the caps carefully and fill only distilled water up to the fill mark in each cell, if required. The one thing to consider is that the fumes from flooded batteries are corrosive and potentially explosive. Place the batteries only in an open ventilated area. Moreover, keep your face away from the opening while removing the cap.
Whatever battery type you use, be sure to check each battery terminal connection whether it is tight and free of corrosion or not. You can eliminate mild corrosion with the help of a diluted mixture of baking soda and water.
The frequency of the maintenance depends on environmental conditions like if you belong to a dusty area, you will be required to clean and investigate your panels more frequently. Solar Cleaning Companies Near Me can also help complete the cleaning task.
You should monitor your panels from time to time, especially the mounting brackets if you belong to an area that comes under a hurricane watch or warning. Solar Cleaning Companies will make sure that you get satisfactory results.
The minimum cost of solar panel cleaning services is $2.87/W. A five-kilowatt solar system in NY can range from $12,198 to $16,502.
Article source:- https://solarrepaircompany.blogspot.com/2021/04/how-to-maintain-solar-panel-system.html